Which Jeep is Right for Me?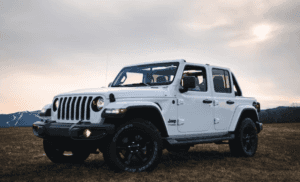 If you're in the market for a new Jeep, you may be wondering which one is right for you. There are a few different models to choose from, each with its own unique set of features. So how do you decide which one is best for you?
Jeep Model for Your Lifestyle…
The first step is to figure out what you need your Jeep to do. Are you looking for a daily driver that can also handle some off-road adventures? If so, the Wrangler is a great option. It's comfortable enough to drive around town, but it's also capable of tackling tough terrain.
The Jeep Wrangler is a popular vehicle for good reason. It's tough, stylish, and perfect for off-road adventures. But what if you want something just a little bit different? Something with a little more personality? That's where the snazzberry color comes in. This unique shade is sure to turn heads when you drive down the street. And with a jeep, you can be sure that your snazzberry will always stand out in a crowd.
If you're looking for more of a luxury SUV, the Grand Cherokee may be a better option. It has a spacious and comfortable interior, and it's loaded with features like heated seats and a premium sound system.
The Renegade is the smallest SUV in the Jeep lineup, and it's a great choice if you're looking for an agile and efficient vehicle. It gets great gas mileage and it's easy to maneuver, making it a great option for city driving.
The Compass is a great choice if you're looking for a versatile and capable SUV. It's available with four-wheel drive, making it perfect for tackling tough terrain. And with a variety of different trim levels to choose from, you can find the perfect Compass for your needs.
Test Drive a Jeep Today!
Step one of getting behind the wheel of your brand new Jeep is to visit our dealership and test drive one. At Newberg Dodge Jeep Chrysler, we have an extensive lineup of vehicles to choose from, and our team is here to help you find the perfect one for your needs.
Come see us today and let us show you how easy it is to get behind the wheel of a new Jeep.