What is the RAM 1500 Multifunction Tailgate?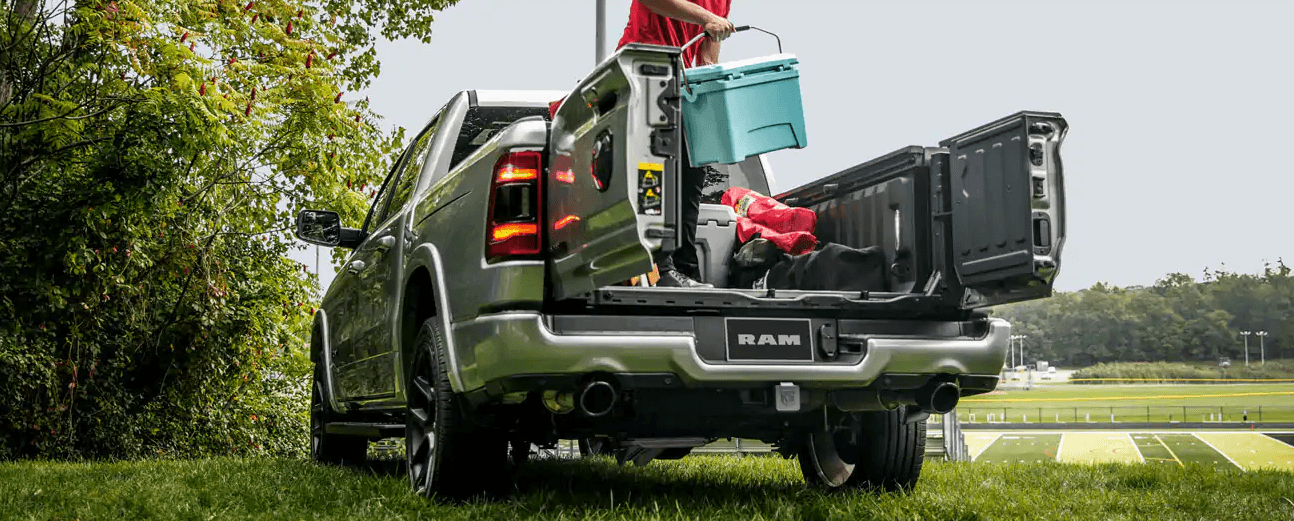 RAM 1500 Inventory 2021 RAM 1500 Trim Levels
The RAM 1500 is capable of various feats with its astonishing towing capacity, and the available multifunction tailgate can play a major role. Whether you're on the road in the Newberg, McMinnville and Sherwood area or simply relaxing on the truck bed, the RAM 1500 multifunction tailgate is designed to make things more convenient and comfortable.
RAM 1500 Multifunction Tailgate Features
Easy Loading and Unloading
The RAM 1500 multifunction tailgate makes loading and unloading much easier. The 60/40 split swing-away doors allow you to load items directly onto the bed without reaching or sliding over a traditional tailgate.
As the name suggests, the multifunction tailgate can also be used as a traditional tailgate, withstanding up to 2,000 pounds with ease.
Access While Trailering
If you're towing a trailer, it might be cumbersome to gain access to a traditional tailgate, but with the multifunction tailgate, the 60/40 split swing-away doors are specifically designed to be unobstructed by most trailers, providing you access while towing at all times.
The combination of accessibility and towing capacity is unparalleled when it comes to the RAM 1500 multifunction tailgate.
Class-Exclusive RamBox Cargo Management System
Add-ons such as the class-exclusive available RamBox Cargo Management System offers versatile, weatherproof, lockable, illuminated and drainable storage bins on each side of the bed. Whether you're storing drinks for a sporting event or transporting your favorite food to a barbecue, the versatility of the multifunction tailgate is on full display.
The RamBox Cargo Management System also comes with a 115-volt auxiliary outlet so you can plug in for power at any time on the go.
Experience the RAM 1500 Multifunction Tailgate at Our Newberg Dealership
From classics to new favorites, our Newberg dealership near McMinnville and Sherwood carries a variety of 1500 models in our new RAM inventory. If you're interested in the RAM 1500 multifunction tailgate, we'd be happy to have you check it out.
You can also schedule a test drive with the 1500 to get a better feel for the model as a whole. If you have any questions about the multifunction tailgate, the RAM 1500, or any of the RAM models we have available, you can contact us at Newberg Jeep RAM. We proudly serve drivers throughout the greater Newberg, OR area, including Sherwood, McMinnville, and beyond.