Looking for a Lifted Truck or Jeep?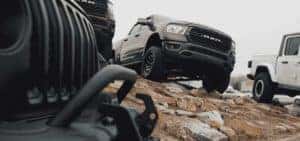 If you're looking to add a little more height and attitude to your ride, consider a lifted truck or jeep. A lifted vehicle can give you the extra clearance you need to take on tougher terrain, and the stylish look that will set your vehicle apart from the pack. Plus, there are plenty of options when it comes to lifts, so you can find the perfect one to suit your driving needs. In this blog, we'll take a look at the different types of lifts available, how they differ, and some of the pros and cons of lifted vehicles.
What are the Types of Lift Kits?
There are several different ways that you can gain a little extra clearance. Some ways are more affordable and others are more expensive, but more expensive ones can give you better performance. It really depends on your needs or desired goals. Lift kits are installed primarily for off-road purposes, but they also can make the truck or Jeep look more like it was intended. If your desire is to upgrade the look of your ride, there are some affordable options available that get a great result. If your goal is creating the ultimate overlanding rig or rock crawling up a mountain, we would definitely gear you more towards a specialized system that will stand up to the demand. A number of modifications can be made to achieve a lifted status. Here are the different types of lift kits available:
Suspension lifts: This will raise the body of the truck, as well as the suspension system. This will provide more ground clearance and better articulation over tough obstacles. A suspension lift is the best option if you plan to do a good amount of off-pavement driving. It's also a great option if you plan to add aftermarket steel bumpers and other extra weight to the vehicle as you can opt for heavier load coil springs to handle the extra weight nicely.
Body lifts: This is a great option if you're happy with the way your vehicle rides and handles and just want it to sit a little higher off the ground. Body lift kits simply raise the body of the truck while still utilizing the same stock suspension. Depending on the vehicle, this could require longer travel shock absorbers to handle the additional ride height, but can still be a much cheaper option to get your desired ride height and the look you want.
Pros and Cons of a Lifted Vehicle
Lifted vehicles offer a number of advantages over traditional, factory-level vehicles. Chief among these advantages are the improved visibility and the enhanced capability to traverse rough terrain. For off-road enthusiasts or those who frequently drive in areas with difficult terrain, a lifted truck or Jeep can be a real advantage.
However, there are also some drawbacks to lifted vehicles. One is the increased cost; lifted trucks and Jeeps often require more expensive components than their factory counterparts. Second, is they can be more difficult to maintain and repair, and third, they often generate more drag on the highway, leading to decreased fuel economy.
Shop Lifted Trucks and Jeeps at Bob Lanphere's
At Newberg Jeep Ram we can install lift kits of all kinds to your Jeep, truck, or SUV. Our expert technicians know trucks and Jeeps and especially lift kits, so they can install the lift of your choice! And if you choose to go with Mopar, you won't void your warranty. We typically have a great selection of lifted trucks and Jeeps, but if you can't find exactly what you're looking for, we'd love to build it for you!
So if you're in the market for a new lifted truck or jeep, contact us at Bob Lanphere's Newberg Jeep Ram. Not only do we have an extensive inventory of vehicles to choose from, but our knowledgeable team is passionate about helping customers find the perfect vehicle for their needs. We'll take the time to listen to your unique requirements and make sure you leave the dealership with a smile on your face. Contact us today to learn more!