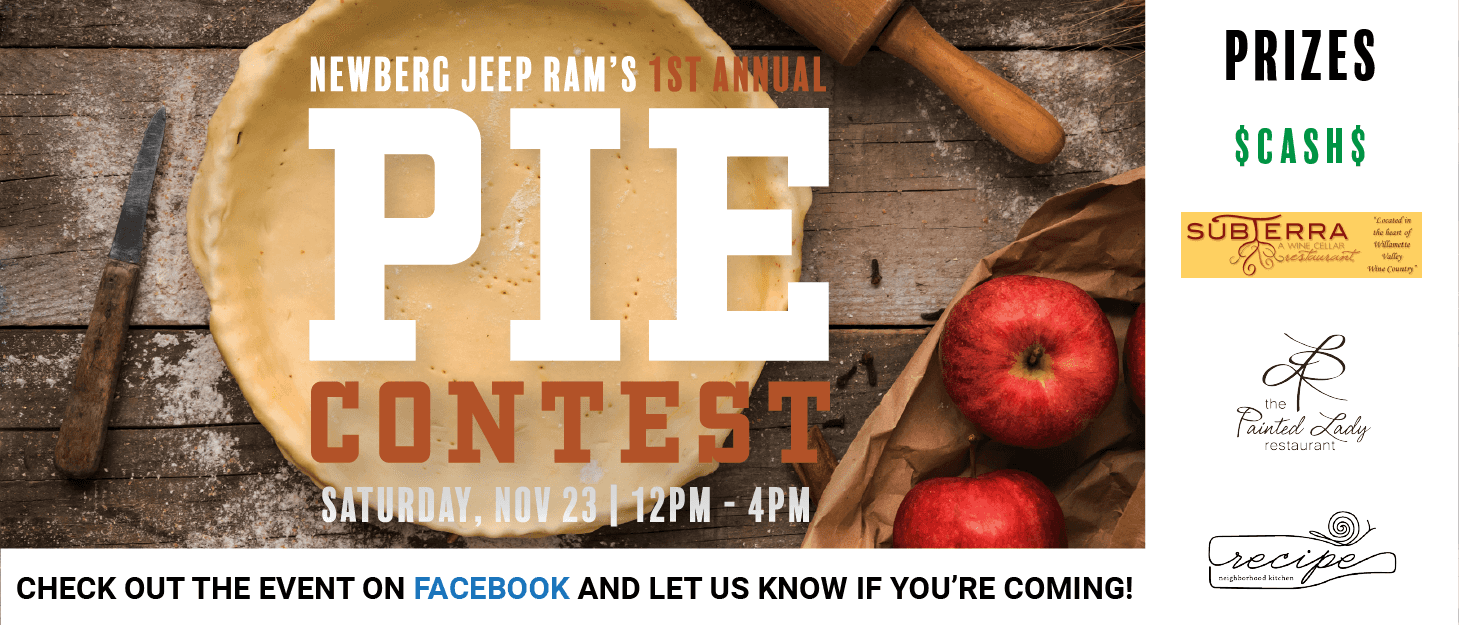 Please join us at Newberg Jeep Ram on Saturday, November 23rd, for our 1st annual Pie Contest!
Time: 12:00pm – 4:00pm
Prizes: $100 gift card to The Painted Lady Restaurant $100 gift card to Recipe $100 gift card to Subterra – A Wine Cellar Restaurant AND $200 CASH!
Contest rules:
– All pies must be baked in a clean and sanitary kitchen.
– Anyone consuming the contest pies does so with the full
understanding that Newberg Dodge did not regulate the
conditions in which the pies were prepared. The consumer
assumes all food consumption and allergy-related risks.
– All pies must be made from scratch. No store-bought pies will be
allowed.
– Each participant will need to supply bite-sized portions of their
pie with disposable serveware for consumers to sample and
judge (like a sample that you would get at Costco).
– You must bring a minimum of 2 pies, but the more samples you
bring, the more potential votes you can receive.
– Participants are allowed to sell pies and take orders for pies
during the contest.
– Pies will be judged on overall taste.
– Pie samples for judging will be on a first come, first serve basis.
– Each participant will need to register by Nov. 21st by emailing
Hollie Lanphere at hlanphere@newbergdodge.com. You will need
to provide the following information: name, phone number,
email, what kind of pie(s) you are entering, and how you heard
about the contest.
Please email Hollie for any additional information! 🍽️🥇😋